Gladioli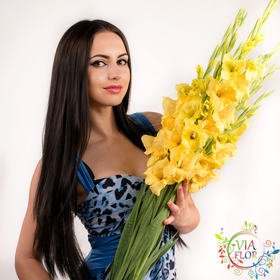 Гладиолус Желтый
0 грн.
Гладиолус Бордовый
0 грн.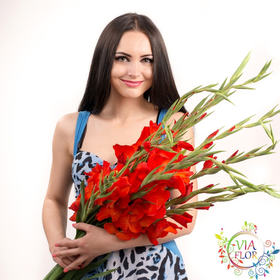 Гладиолус Красный
0 грн.
Order a bouquet of gladioli with delivery in Kharkov
The famous gladiolus flower got its name due to its leaves, which in their shape resemble swords. This flower also has another name - skewer. The historical homeland of gladiolus is the tropical regions of Africa. Since ancient times, it is famous not only as a decorative flower. It was used as a medicinal plant, and even used as a talisman. Going on a campaign, the men hung the gladiolus root around their neck, as they believed that it would help to win the victory. And in the Middle Ages, women sewed small bags where they put the dried roots of gladiolus.
It was believed that he would protect the owner from all sorts of misfortunes. Legends folded about this flower reveal the origin of its name. One of them tells of two young men who were killed after being captured and refused to fight. For this, they paid with their lives, and at the place of their death two magnificent flowers grew, similar to the swords of these soldiers.
Buy gladiolus
In today's world, gladioli are a bouquet that is suitable for both men and women. Gladiolus is a very beautiful and delicate flower that surprises with a palette of colors. Florists have more than a hundred species of gladiolus, which differ in the size of the flowers themselves, bloom periods, as well as a number of other parameters. And work on breeding new varieties of this wonderful flower continues to this day by breeders from all over the world.
Today, gladiolus is a popular flower widely used by florists. You can buy gladioli in the "Viaflor" online store, the bouquet selected by our specialists will correspond to the style of the planned event. The color palette of this plant will delight all lovers of beauty.
You can order gladioli for any holiday, because the stereotype that gladioli are flowers that are given to teachers on September 1 has long outlived its usefulness. In the most romantic of languages, the language of flowers, gladiolus says: "Give me a chance, I am sincere." It symbolizes care and attention. Therefore, if you are wondering where to buy gladioli - do not hesitate, go for it. The specialists of our store will help you express suitable feelings, even without words.
Having decided to order gladioli, you give preference to really beautiful, bright and pleasant colors, of which every representative of the fair sex will be delighted. And another feature is their longevity - they stand for more than a week, blossoming to the last bud, the lower buds gradually fade, and the upper buds open, while not only pleasing in their appearance, but also in a very light and delicate aroma.
By the way, despite the fact that varieties with very large flowers look very majestic, today you can buy gladioli in the Viaflor online store at a more than affordable price. We can collect a bouquet of gladioli for every taste, and a courier delivery service will deliver them to you for free at the right time and place throughout Kharkiv!